Home


Irvin Williams, married to the one person in this world God knew I needed to make my life complete: Norma Williams

I became a Christian at the age of seventeen, baptized into Christ by Brother Roy Burgess at the Atwood Street Church of Christ in Louisville, Ky.

Shortly after my baptism I preached my first gospel sermon, with Brother Burgess help and insistence, at the Atwood Street Church. Since then I have had the privilege to preach several places for short periods of time, as they sought a minister: Shelbyville Ky., Steedley Drive in Louisville, Bardstown, Ky., Boneventure Church in Louisville.

In 1983, I was one of several persons who preached for the South Clark Church.

In 1993, I retired from secular work and was asked to preach for the South Clark congregation and the next nineteen years were spent with those folks.

God has continually blessed me; and now has given me the opportunity to labor with the Hamburg Pike Church as an associate with David. What a blessing to have this opportunity with all of the Hamburg Pike family!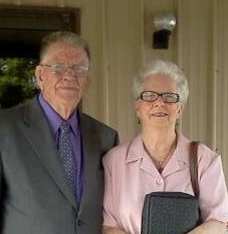 Irvin and Norma Williams

"Personal Evangelism"
-Irvin Williams